Strong Women in the Bow Valley
The Dorothy is Banff's boutique motel, inspired by the spirit of women's strength in the Bow Valley; from pioneering adventurers such as Mary Schäffer and Mary Vaux, to 21st century women like Dorothy Carleton and Sharon Wood. These strong women made homes in the backcountry and lived a life of wilderness adventure, while balancing motherhood with grace, practicality and positivity.
Celebrating strong mountain women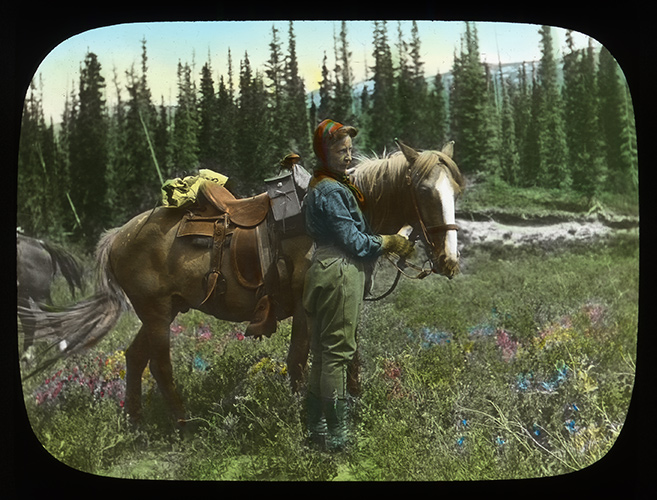 [Mary Schaffer with horse], Whyte Museum of the Canadian Rockies (V527/II/A/ps1-151)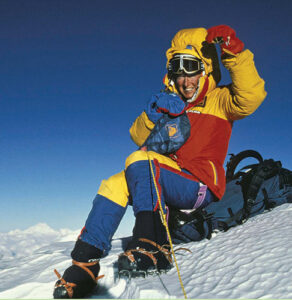 Sharon Wood on summit of Mt.Everest, 1986 Photo: Dwayne Congdon
THE TRAILBLAZERS
Today's female adventurers owe a great deal of credit to women of the past who blazed the trail before them. Not only did this open up new opportunities for women by breaking gender stereotypes, in some cases women were literally creating the trails for others to follow – men and women alike. Meet some of the Rockies' prominent trailblazers:
One can only begin with the original mountain women, the First Nations and Métis people who first called the Rockies home. The land that current Banff residents live and play on is Treaty 7 territory. Women who seek adventure in the mountains today should know they are on the traditional lands of the Stoney Nakoda, Blackfoot, Dene, Ktunaxa, and Métis.
Mary Schäffer Warren was an American-Canadian botanist and explorer who made her home in Banff. A woman of many talents, she is known for her explorations of Jasper's Maligne Lake region in 1908, for her wildflower watercolour paintings, lantern slides and many contributions to the Banff community. Her home, Tarry-A-While, can be found opposite the Banff Cemetery.
Many Canadians will know Sharon Wood, the first North American woman to climb Mt. Everest. In 1986, she climbed the mountain via a bold new route on the peak's West Ridge (one that has never been repeated!). Now based in Canmore, Wood is a speaker, an ACMG-certified alpine guide, mother of two and the author of Rising. She has now shared her story with over a thousand audiences.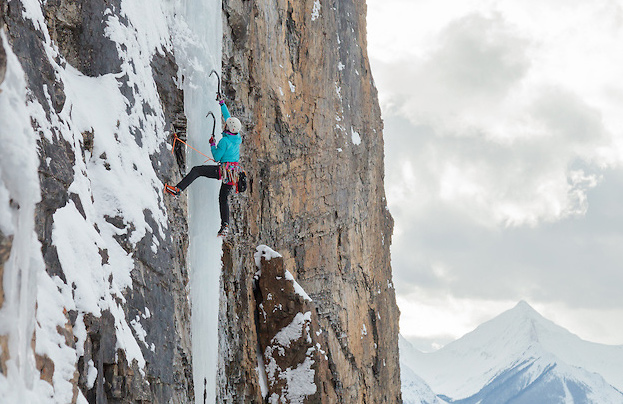 Sarah Hueniken mixed grade climbing, Photo: John Price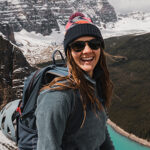 Bre Mirynech in Banff National Park
WOMEN PUSHING THE LIMITS
Women have long been scaling peaks in the Rockies and pushing not only what a women should do but also what she can do. Some have demonstrated phenomenal strength and a tenacity of spirit that sets them apart. They are pushing their physical and mental boundaries in their respective sports and experiences in the mountains. Here are a few:
Gertrude Benham is perhaps one of the most overlooked figures in Rockies mountaineering history, yet her track record is staggering. A prolific alpinist before she arrived in the Rockies, she came from Europe for a single season in 1904 and bagged peak after peak in a stunning display of fitness and determination. On one expedition, Benham departed from Lake Louise for an epic, 27-hour return trip to climb Mt. Stephen, near Field, B.C.
Fast-forward over a century and today Sarah Hueniken is swinging ice tools and climbing mixed routes that most people wouldn't even think possible to climb. The first North American woman to climb an M14 graded route (read: very difficult), Hueniken was also part of the team that made the ice climbing first ascent of Niagara Falls. She is an ACMG Alpine Guide and Rock Guide and guides clients throughout the mountains.
 Young but no less powerful, Bre Mirynech is a transplant from Ontario (like many Banff residents) who fell in love with the mountains and pushing her limits. An accomplished all-around mountain enthusiast, more recently Mirynech has teamed with a group of women for trail runs into the Rockies backcountry, such as a 53-km roundtrip into Mt. Assiniboine and a 42-km roundtrip into Berg Lake in Mt. Robson Provincial Park.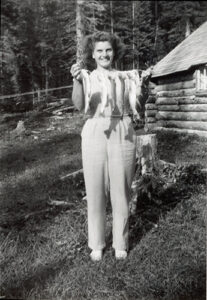 Dorothy Carleton , Bow Summit, 1948. Courtesy Carleton Family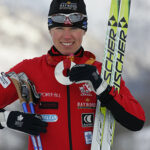 Sara Renner with Olympic medal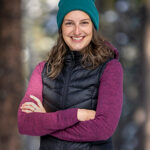 MOUNTAIN MOMS
Just as there is a long tradition in the Rockies of women celebrating other women, there is a long tradition of women raising the next generation of mountain enthusiasts. Growing up in the mountains is a unique experience, and some kids have a particularly unique childhood growing up in the backcountry. These moms have taken outdoor parenting to a whole new level:
Dorothy Carleton came to Canada as a war bride in 1946, and together with her son and husband, Ed, moved into a backcountry warden cabin in Banff National Park when Ed took on a new job. Carleton needed to adapt at every turn, learning to live in the wilderness with an outhouse a half mile away, bathing her kids (she eventually had three boys) in the backcountry and learning to make things like elk stew. She was as resourceful as it comes when serving and supporting her family.
Growing up with Mt. Assiniboine in her backyard was certainly a unique experience for Sara Renner. Her parents ran Mt. Assiniboine Lodge for 27 years, and Renner spent much of her upbringing in the backcountry. An Olympic silver medallist in cross-country skiing, Renner now runs Talus Backcountry Lodge with her husband Thomas Grandi, and is raising three daughters.
Banff resident Meghan J. Ward wasn't raised in the mountains, but she and her husband, an adventure photographer, are now raising their two daughters to embrace the mountain experience. Ward is an outdoor writer who frequently weaves her family's adventures into her books and articles, and hopes to inspire others to venture off the beaten track with their kids.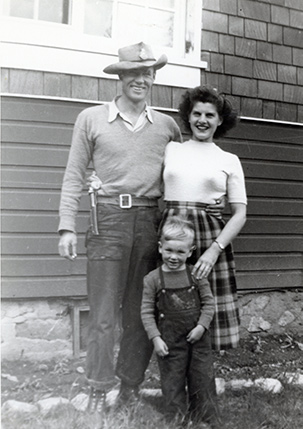 Ed, Dorothy, and Mike Carleton, Banff National Park, 1949
Watch the great fireside chat with Dorothy from 2013 – https://www.youtube.com/watch?v=fa34p6dbAV8
For many more historical stories and a wealth of information about the last 100 years in Banff, visit the Whyte Museum of the Canadian Rockies – https://www.whyte.org/
Sharon Wood's book describing her experience climbing Mt Everest – https://sharonwood.net/
Sarah Hueniken – http://sarahhueniken.com/
Some background Sara Renner – https://en.wikipedia.org/wiki/Sara_Renner
Keep an eye out for Meghan's new children's book launching soon!  –  https://www.meghanjoyward.com/
Special thanks to the Whyte Museum of the Canadian Rockies for all their help with research and photography suggestions. Meghan Ward, whose knowledge helped connect all the dots and write some amazing blog posts. To Mike and Brian Carleton for helping with insight into Dorothy's life. To all the women involved that helped with time and stories: Sharon Wood, Sarah Hueniken, Sara Renner, Bre Mirynech, Sarah Magyar, Sally MacDonald.